Set pieces
Preliminary Round
Comme la rosée, aussi comme l'éclair - Wenchi TSAI
All conditioned phenomena,
Are like a dream, an illusion, a bubble, a shadow,
Like dew, a flash of lighting,
Thus should we regard them.
The Diamond Sutra
Music can interpret everything, and why not a philosophical questioning of mundane phenomena to which we do not usually pay attention.
The title of the work "Comme la rosée, aussi comme l'éclair" is an excerpt from the Diamond Sutra. It means that everything that is material in this world, constantly appears and disappears according to a principle of impermanence, like all that is spiritual, thought or consciousness. The phenomena we clearly see such as a water bubble, morning dew or even a flash in the sky actually last only for the time of a blink.
While these phenomena seem real to us, we perceive them as chimerical, as if we were in a dream. If the world seems like an eternity, these incalculable and fleeting moments are an infinite number of appearances and disappearances.
To illustrate her work, the composer chose as main image the dew beading everywhere at dawn and the flash that lasts only a blink. The motif containing triplets, equivalent to two or four times, the melodic passage of the xylophone and the passage in "pianissimo" of the Glockenspiel, are all representations of dew; the passage of keyboards and drums, which creates an enormous energy, is the representation of powerful consecutive flashes. The work ends with a splendid sonority of the Glockenspiel in "fortissimo", bringing the audience into a persistent resonance.
Prize-winning work of the IPCL Composition Competition
Axent Edition, available at Percussion Brandt
Wenchi TSAI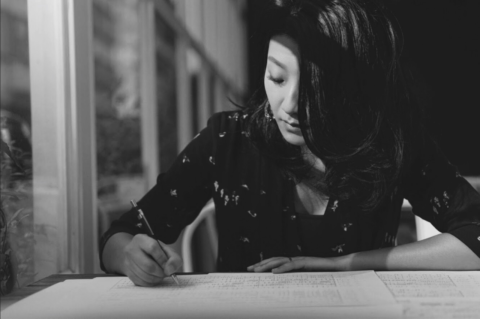 Compositrice taïwanaise, née à Taipei. Elle commence à apprendre la composition avec Chiang Chia-chen à Taïwan. Elle arrive en France en 2002 et continue ses études à l'École Normale de Musique de Paris, dans la classe du grand compositeur japonais Yoshihisa Taïra, comme son dernier élève.
En juin 2006, elle obtient son diplôme supérieur de composition. Elle travaille aussi avec des compositeurs français pour la composition et la musique électronique, comme Édith Lejet, Allain Gaussin, Jean-Luc Hervé et Raphaël Cendo.
En 2008, elle écrit «Le fou gémissant» pour saxophone baryton. En 2010 et 2011, Wenchi participe au concours national de composition organisé par le Centre d'Arts National. Elle est lauréate avec «Ombre» pour duo de percussion en 2010, et «Pluie du soir» pour marimba et flûte en 2011.
En février 2012, une exposition de ses oeuvres pour percussion et musique électronique a lieu au théâtre avant-garde de Taipei. En octobre 2014, Wen-chi est sélectionnée pour participer au Festival international d'Art de Shanghai. En 2018, «Forêt vaporisée d'une légère brume» pour 3 percussionnistes a sa première mondiale au Conservatoire Supérieur de Lyon. C'est avec cette oeuvre que Wenchi remporte le «Yoshiro IRINO Memorial Prize».
En 2019, «Quatre faces» pour 4 percussionnistes et «La splendeur des tambours» pour 7 percussionnistes ont leur première mondiale à Taipei. Le sextuor «Air mass» est créé à Strasbourg par les Percussions de Strasbourg et «Alma's field guide to Mosses» pour saxophone ténor a sa première mondiale à Singapour.
---
Stück - Wolfgang RIHM
This piece is called "Stück", the german synonym, that's why it is named that way. It
ends in a different way than it starts, which changes nothing!
However, it starts as so:
The players crouch, squat or kneel close together in the middle of an open stage, like a group of animals or like forgotten, neglected scientists…
A fire? A hole? A death…? Maybe remains? Rental equipment? Remains! Yes, that could as well be the title of the piece. In that case, it would start in a different way than it ends.
In the middle of the desert lies a score between rocks…hacked out…riddled with holes…bullet holes? (Wolfgang RIHM)
Stück was premiered April 21st 1989 in Witten (Germany) by the Schlagquartett Köln.
Semifinal
Narnchygäer - François TASHDJIAN
With Narnchygäer, dedicated to the French trio SR9 François Tashdjian imagines a threeheaded demon who enlists his victims by making them dance until death.
Narnchygäer was released on CD in 2018 "Alors on danse?" (Naïve Records) performed by SR9.
---
Amores - John CAGE
John Cage's Amores (1943) is a four-movement work for prepared piano and percussion trio. The first and last movements feature the piano by itself (prepared piano, played by one person), while the inner two movements focus on toms and wood blocks (percussion trio). Merce Cunningham choreographed the piece in 1949.
This piece is one of the first to be written from Cage's rhythmic proportions technique. The second movement is composed of 10-bar units that are each divided into four sections: 3, 2, 2, and 3. This particular chamber work calls attention to Cage's dedicated expansion of musical resources by his creation of a repertory for percussion instruments as well as one for an instrument of his own invention, the prepared piano. "Music need not be understood, but rather it must be heard" (John Cage)
Amores was premiered February 7th 1943 in New York and January 29th 1959 in Milan
---
shortfilm VESTIGES
The animated short "Vestiges", conceived by Felicia Bremin with the help of Pia Nennig, was created during their last year of the "BTS Dessin d'animation" as their final student project.
This animated short features a being made of moonlight, waking up to a desolate cloud covered world. With no moon in sight, she, as a mere afterimage, is slowly fading away. However, despite the unforgiving darkness, there is still hope for her survival as in the distance an unexpected light is beckoning. Perhaps it will be enough to aid her return home.
Pia NENNIG - short film director
My name is Pia Nennig, I was born in 1997. I started my education at the Fieldgen and later switched to the art department at Athénée for my last 3 years. During those years, I took extra courses in printing and took part in smaller art related exhibitions as well.
Outside of school I took music lessons and chose drums and percussion as my instruments for a few years. And in the future, I still hope to pick up the drums as a hobby again and continue to grow. Beside music i have taken up embroidery, sewing and sculpting with clay, outside during my personal time.
After graduating, I studied animation at the "BTS Dessin d'animation" with the intent of broadening my art skills. With an internship in the animation studio "studio 352", I learnt the pipeline and different departments in the animation industry.
And it's been a full year now, that I have been employed as a junior animator in Doghouse Studios, working on 2 separate movies. During my time there I've been involved with the different steps within the animation production, from layout, to rough animation, to inbetween, to clean. I hope to continue my animating journey going forward.
Felicia BREMIN - short film director
My name is Felicia Bremin, born late 1997 and already as a child, I had spent a lot of time drawing. Before studying animation at the "BTS Dessin d'animation" as part of the 2018 class, I had thus been doing digital illustration for 6 years prior as a hobbyist alongside my standard education at Athénée.
During my time at school I took any opportunity to participate in many varying art-related courses ranging from photography, to printing as well as free-from art during which I tried my hand at traditional painting.
As that foundation suggests I'm currently hoping to continue to develop a range of varying skills and learn the ins-and-outs about the different aspects of the art industry, by becoming a freelance artist. The animation course at the BTS has helped me flesh out my options even further and has given me the ability find foothold in a large variety of positions in the entertainment pipeline.
For my internship during the BTS, for example, I was able to experience first-hand what kind of work is required as a concept artist, working on an animated series at Zeilt Productions Studio.
As of right now, I'm in the second year of production as the sole artist working in a small game-developing team. I'm providing all visuals for a 2D Platformer: from graphic design, to background assets, animation and more.
I am involved every step of the way from brainstorming ideas, making visual concepts, to creating usable assets for the programmers to implement.I also still do occasional illustrations on the side, and it's a constant balancing act, drawing as a job as well as drawing as a hobby.
Final
Organized - Georges SADELER
"Organized" is a concert piece for percussion trio and organ, commissioned by the International Percussion Competition Luxembourg 2022, challenging competing percussion trios in their ensemble playing with organ.
The work is based on a recurring « 3+1 » motif, organized in various ways from prolongations, reductions and displacements to fragmentations and is characterized by tonal ambiguity and groovy, accented patterns. Leadership roles are continuously exchanged between the organist and the three percussionists to form a balanced chamber music group.
The piece uses a vast array of percussion instruments, sometimes asking percussionists to play a combination of different instruments at the same time. Emphasis needs to be put on balancing dynamics and sound colours in this unusual combination of instruments.
---
Paul KAYSER (Luxembourg), organist
Born in Luxembourg in 1979, Paul Kayser began studying organ in 1989 (class of Pierre Nimax jr.) at the Conservatory of Music at Luxembourg-City. He obtained there 3 First Prizes (solfège, improvisation, organ-building) and 3 Superior Prizes (organ, harmony, counterpoint).
He continued his studies at the "Hochschule für Musik und Darstellende Kunst Frankfurt am Main" (Sacred Music and Concert Formation) in the classes of Martin Lücker and Daniel Roth (organ), Winfried Toll (choir master), Gerd Wachowski (liturgical organ) and Godehard Joppich (gregorian chant). Those studies were completed with the concert exam at the "University of Arts" in Berlin, where Paul Kayser was admitted in the organ improvisation class of Prof. Wolfgang Seifen.
Beside his studies, Paul Kayser worked also with Jean Boyer, Gillian Weir, Lorenzo Ghielmi, Olivier Latry, Pierre Pincemaille and Thierry Escaich.
Paul Kayser was laureate at the Organ Improvisation Competition of Bad Homburg (Germany) in 2001 and at the "Orgues Sans Frontières" Competition in 2007.
He regularly plays solo recitals, so for festivals in Luxemburg, Germany, France, Spain, Czech Republic. His interest for chamber music made that he gave concerts with flute, percussion, saxophone, viola, singers and choirs. In 2005, he has played as a soloist with the Philharmonic Orchestra of Luxemburg at the «Festival d'Orgue de Dudelange». The same year, he was on a concert tour in Japan with the «Pueri Cantores du Conservatoire de Luxembourg»
Having grown up with the famous Stahlhuth organ in Dudelange and after having served several years as organist of the famous St.Willibrordus Basilica in Echternach, Paul Kayser is today appointed organist of the St-Alphonsus church in Luxembourg City. He teaches musical education at the «Lycée Classique de Diekirch».