Winner
The IPCL management is proud to announce
Wenchi TSAI
as the winner of the 2nd IPCL Composition Competition.
The winning work "Comme la rosée, aussi comme l'éclair" is awarded by 2500€ and will receive its world premiere in July 2022 during the preliminary round of the IPCL Percussion Trio Competition.
(Available at Percussion BRANDT)
Wenchi TSAI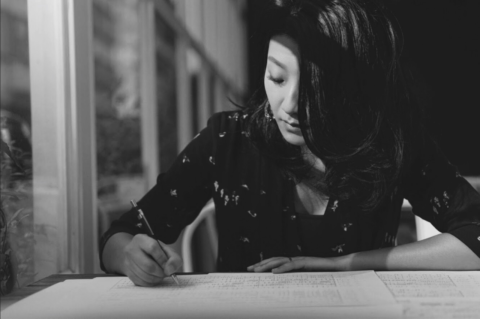 Compositrice taïwanaise, née à Taipei. Elle commence à apprendre la composition avec Chiang Chia-chen à Taïwan. Elle arrive en France en 2002 et continue ses études à l'École Normale de Musique de Paris, dans la classe du grand compositeur japonais Yoshihisa Taïra, comme son dernier élève.
En juin 2006, elle obtient son diplôme supérieur de composition. Elle travaille aussi avec des compositeurs français pour la composition et la musique électronique, comme Édith Lejet, Allain Gaussin, Jean-Luc Hervé et Raphaël Cendo.
En 2008, elle écrit «Le fou gémissant» pour saxophone baryton. En 2010 et 2011, Wenchi participe au concours national de composition organisé par le Centre d'Arts National. Elle est lauréate avec «Ombre» pour duo de percussion en 2010, et «Pluie du soir» pour marimba et flûte en 2011.
En février 2012, une exposition de ses oeuvres pour percussion et musique électronique a lieu au théâtre avant-garde de Taipei. En octobre 2014, Wen-chi est sélectionnée pour participer au Festival international d'Art de Shanghai. En 2018, «Forêt vaporisée d'une légère brume» pour 3 percussionnistes a sa première mondiale au Conservatoire Supérieur de Lyon. C'est avec cette oeuvre que Wenchi remporte le «Yoshiro IRINO Memorial Prize».
En 2019, «Quatre faces» pour 4 percussionnistes et «La splendeur des tambours» pour 7 percussionnistes ont leur première mondiale à Taipei. Le sextuor «Air mass» est créé à Strasbourg par les Percussions de Strasbourg et «Alma's field guide to Mosses» pour saxophone ténor a sa première mondiale à Singapour.
Comme la rosée, aussi comme l'éclair
All conditioned phenomena,
Are like a dream, an illusion, a bubble, a shadow,
Like dew, a flash of lighting,
Thus should we regard them.
The Diamond Sutra
Music can interpret everything, and why not a philosophical questioning of mundane phenomena to which we do not usually pay attention.
The title of the work "Comme la rosée, aussi comme l'éclair" is an excerpt from the Diamond Sutra. It means that everything that is material in this world, constantly appears and disappears according to a principle of impermanence, like all that is spiritual, thought or consciousness. The phenomena we clearly see such as a water bubble, morning dew or even a flash in the sky actually last only for the time of a blink.
While these phenomena seem real to us, we perceive them as chimerical, as if we were in a dream. If the world seems like an eternity, these incalculable and fleeting moments are an infinite number of appearances and disappearances.
To illustrate her work, the composer chose as main image the dew beading everywhere at dawn and the flash that lasts only a blink. The motif containing triplets, equivalent to two or four times, the melodic passage of the xylophone and the passage in "pianissimo" of the Glockenspiel, are all representations of dew; the passage of keyboards and drums, which creates an enormous energy, is the representation of powerful consecutive flashes. The work ends with a splendid sonority of the Glockenspiel in "fortissimo", bringing the audience into a persistent resonance.
Jury
Paul MOOTZ (Luxembourg), chairman
Paul Mootz, born in Luxembourg in 1952, began his musical studies in Theory, Piano, Harmony, Chamber Music and Percussion at the Music Conservatory of Luxembourg-City. Further professional studies were then pursued at the Conservatoire National Supérieur de Paris where he obtained diplomas in sight-reading, theory and analysis and was awarded First Prize in Percussion as a student of Jacques Delécluse.
In 1982, he participated in the' Concours International de Genève' and successfully reached the semifinal round of the competition. During the same year he was accepted at the "Musikhochschule of Würzburg" (Germany) where he commenced percussion studies with Siegfried Fink and was thus awarded in 1984 the "Meisterklassendiplom". Solo percussionist with the RTL Symphonic Orchestra for 10 years, Paul Mootz has also served as percussion teacher at the Music Conservatory of Esch-sur-Alzette since 1978. In 1985, he has been named Professor of Percussion and Chamber Music at the Music Conservatoire of Luxembourg-City. From December 2001 until September 2004, Paul Mootz was the deputy director of Luxembourg-City' s Music Conservatoire.
In 1982 and in 1993 he created the percussion ensembles Luxembourg Percussion and Mariendall and since then has conducted a number of concert tours in Luxembourg, Europe, United States of America, Canada and Australia with great success. Apart from his work with many chamber ensembles, he has performed as soloist with such notable musicians as Peter Sadlo and Walter Civitareale at the Music Festivals of both Echternach and Wiltz.
Also a composer and arranger, Paul Mootz writes a great deal of his compositions for his many students and for percussion ensembles. He is also president of the International Percussion Competition Luxembourg and Axent, Luxembourg' s percussion association.
Wim HENDERICKX (Belgium)
Wim Henderickx studied composition and percussion at the Royal Conservatoire in Antwerp and sonology at Ircam, Paris, and at the Conservatoire of Music, The Hague. His compositions are often inspired by other cultures. Between 2004 and 2010, he worked on the Tantric Cycle, a seven-part composition series based on Oriental philosophy and Buddhism. The works of Wim Henderickx are performed by renowned orchestras, soloists and ensembles. Electronics are often an important feature in his oeuvre. Wim Henderickx has been Composer-In-Residence at Muziektheater Transparant since 1996. He joined the Antwerp Symphony Orchestra as an Artist-In-Residence in 2013. The full double CD ( 2016 ) with four of his works recorded by this orchestra, received international acclaim including five stars in BBC Music Magazine. The full CDs Disappearing in Light ( 2011 ) and Tryptich ( 2015 ) were developed in collaboration with the HERMESensemble and Jorrit Tamminga ( electronics ).
Symphony N° 2 ( Aquarius' Dream ) premiered in March 2017 with the Antwerp Symphony Orchestra at the renewed Queen Elisabeth Hall in Antwerp with soprano Claron McFadden and conductor Thierry Fischer. Revelations was commissioned by Muziektheater Transparant and premiered at the Opera21 Festival at de Singel in Antwerp ( April 2017 ). The ballet production Requiem, commissioned by Opera Ballet Vlaanderen and in collaboration with choreographer Sidi Larbi Cherkaoui, was performed twelve times in Ghent, Antwerp and Bruges ( March-April 2017 ). Wim Henderickx was awarded both nationally and nternationally for his work. His scores are published by Norsk Musikforlag in Oslo. He is a Professor of Composition at the conservatories of Amsterdam and Antwerp. Finally, he is the main coach of the annual SoundMine summer-composition course for young composers at Musica in Neerpelt, Belgium.
Claude LENNERS (Luxembourg)
Lenners, Claude composer of orchestral, chamber and vocal works. He studied music and musicology at Université des Sciences Humaines in Luxembourg and Strasbourg as well as at the Conservatories in Luxembourg and Strasbourg.
His honors include a scholarship to stay at the Villa Medici in Rome (1989-91), First Prize in the Henri Dutilleux Competition (1991), a scholarship to attend Darmstadt (1992), the First International Irino Prize for Chamber Music (Tokyo 1993 ), and the Lions Prize (Luxembourg section 1997).
He composed for various ensembles, including Alter Ego ( Roma ), the ASKO Ensemble, the Cambridge New Music Players, Ensemble Accroche 'Note, Arditti Quartet, Cambridge New Music Players, Ensemble Intercontemporain, Orchestre de l' Opéra de Tours, Orchestre Philharmonique du Luxembourg, Rundfunk Sinfonieorchester Saarbrücken etc.
Since 1992, he teaches analysis, composition andcomputer music at the Luxembourg Conservatory.
In 1999, he founded the electronic and new music association Noise Watchers Unlimited and was artistic director of the New Music festival Rainy Days in 2000-2005 (Luxembourg).
Éditions Lemoine (Paris), Editions Alphonse Leduc (Paris) and Noise Watchers Unlimited (Luxembourg) are publishing his music.
Nicolas MARTYNCIOW (France)
The percussionist, drummer and composer Nicolas Martynciow is one of the internationally renowned French drummers.
He first studied percussion with Claude Giot and Philippe Boisson at the Conservatoire de Saint-Etienne, his hometown, and then with Francis Brana at the Conservatoire de Créteil. In 1990, he he obtained first prizes in Percussion and Chamber Music at the "Conservatoire
National Supérieur de Musique et de Danse de Paris" in the class of Jacques Delécluse.
Being a percussionist with the Orchestre de Paris since 1995 (directed by Daniel Harding), he has played under the direction of prestigious conductors such as Pierre Boulez, Christoph Eschenbach, Valery Gergiev, Paavo Järvi, Carlo Maria Giulini, Bernard Haitink,
Lorin Maazel, Georges Priest or Sir Georg Solti. After the Salle Pleyel, it is at the prestigious "Philharmonie de Paris" that the Orchestre de Paris performs during concerts as the first resident orchestra. On tour, he performs in Europe, the United States, Japan, China, Korea, etc.
As a chamber musician, Nicolas Martynciow has regularly performed with the Ensemble Carpe Diem (directed by Jean-Pierre Arnaud), adONF (collective of percussionists of the Orchestre National de France), Sirbaoctet (directed by Richard Schmoucler), and his
fellow musicians Eric Picard (cello), Stéphane Labeyrie (tuba), Eric Sammut (percussion), Vincent Lucas, Vicens Prats (flute), Eiichi Chijiwa, Roland Daugareil (violin), Philippe Berrod (clarinet), Alexandre Gattet (oboe) and Marc Trénel (bassoon).
As a drummer, he currently plays with the group "Beat in Progress" alongside the percussionists Philippe Limoge, Damien Petitjean and Jean-Luc Rimey-Meille.
As a composer, he directs a collection at Editions Gérard Billaudot. His compositions are played around the world. Many are engraved on CD. His compositions for percussion ensembles "Sweat Swaff", "La Festa per Due" and "Zoo" were performed in Paris at the
Opéra Garnier, Opéra Comique, Salle Pleyel, Théâtre de l'Athénée and at the Maison de Radio France.
His pieces for snare drum "Impressions" and "Tchik" are played in the biggest international competitions worldwide. Over 1500 copies of his method for percussion
beginners called "Tac Tic" (2 volumes) are sold each year.
He teaches percussion at the "Pôle Supérieur de Musique de Bordeaux", and is in charge of orchestral percussion lessons at the "Conservatoire National Supérieur de Musique et de Danse de Paris". He regularly gives masterclasses in France and Europe.
He has been Zildjian Artist since 2013 and Bergerault Percussion Artist since 2022.
Matthias SCHMITT (Germany)
Matthias Schmitt ( born 1958, in Würzburg / Germany ) studied piano, composition ( film and stage-music ) and percussion.
Parallel to this, he also received a recording contract with BMG Ariola with his band " Neuland " and recorded his first pop album.
During his studies with Siegfried Fink at the Hochschule für Musik Würzburg he composed his first work for percussion " Cabo Frio ". He was in contact with such diverse styles as jazz, avantgarde, minimal-music, latinpercussion, african-percussion, rock etc. He performed with percussion-ensembles and studied solo-literature, culminating in the completion of his university diploma at the Würzburg Hochschule in 1984.
Since then, Matthias Schmitt has taught and lectured at various institutions including the Universitiy of Applied Science Würzburg-Schweinfurt, Peter-Cornelius Konservatorium in Mainz and the Hochschule für Musik in Würzburg and many more...
Schmitt joined the pop-group «Relax» from 1988 to 1995. Not only did he tour Germany, Austria, Switzerland, and Belgium, but he also recorded and coproduced several CDs which have been presented on numerous radiostations and television shows..
At the same time he wrote and co-produced 4 albums for Michael Schanze (german entertainer) In 1995 he founded the Clavis-Musikschule (his own private music-school) and has developed and published new pedagogical concepts since that time.
Since 1996, he has focused on percussion-music, and these compositions have been performed globally. "Ghanaia" (written in 1996), first recorded by Katarzyna Myćka for her first album called "Marimba Spititual" became the compulsory piece at the 1999 International Marimba Competition in Okaya-Japan and again in 2003 in Paris.
6 Miniatures for marimba solo, which he dedicated to Katarzyna Myćka, were recorded by Katarzyna 2 years later for her second solo album called "Marimba Dance".
In 2004 he conducted the world premiere of his concerto for marimba and string orchestra (or quartet), "One World", at the International Marimbafestival in Linz (Austria). It was met with great success.
In 2006, he produced the solo CD with Evgeniya Kavaldzhieva performing, «A Tribute to Charlie», featuring his solo works for marimba and vibraphone.
Also in this year he composed "2-Gather", a compulsory piece for the international marimba competition in Belgium in 2007. In 2007, he produced, performed and published the textbook, "Let' s DruM Together", in English and German for djembe and conga.
Numerous pieces for solo marimba, marimba-duo, chamber-music, percussion-ensemble-pieces and pedagogical pieces were published throughout the years.
The premiere of "Agnus Dei" for mixed choir and marimba occurred in 2011 in Würzburg, the USA premiere in NY in 2013. Soloist at both concerts: Evgeniya Kavaldzhieva.
Between these events he produced the CD "Agnus Dei" with the Bachchor Würzburg (conductor:
Christian Kabitz) and Evgeniya Kavaldzhieva Marimba and a documentation on youtube "Agnus
Dei Making" of in German and Englisch.
"20 years Ghanaia" is a documentation produced by Nicolas Unger about Matthias, his musical and his pedagogical work, which can be seen on youtube end of 2017.
In 2021/2022 Matthias produced for Norsk Musikforlag/Oslo the album «Tir n'a noir» with the young Austrian pianist Elias Keller, to which he contributed 9 piano pieces. For this album he produced 8 videos, which he also directed.
His percussion compositions have become standard repertoire for world-famous soloists and ensembles around the world.
Official Regulations
Preface
Please find below the official regulations of the 2nd Composition Competition for percussion trio organised by the International Percussion Competition Luxembourg.
You are kindly requested to read them carefully and in case of interest, to register directly on our website.
Please keep your correspondences in the official languages of the Competition: French or English.
General conditions
By applying, every participant entirely accepts the following regulations, the French text being the reference text.
For any case at issue, the Luxembourgish court will have jurisdiction.
Composition
The subject of the Composition Competition of the International Percussion Competition Luxembourg ( IPCL ) is a work for percussion trio.
Duration: 7-8 minutes
Each player should use one mallet instrument (marimba, vibraphone, xylophone, glockenspiel) and some of the following instruments:
Timpani
Snare drums, bongos, tomtoms, bass drums
Templeblocks, woodblocks, claves
Suspended Cymbals, hihat, 1-2 tamtams/gongs, triangles
The use of electronics is not permitted.
In April 2020, the jury of the Competition will select the prize-winning work, which will be the setpiece for the 1st round of the Percussion-Trio Competition 2021 organised by the International Percussion Competition Luxembourg and taking place from 13th until 21th February 2021.
Presentation of the composition
The musical score, in PDF format, may be handwritten or in electronic form, but must be perfectly legible.
The Competition is anonymous. All references on the score to the composer's name, city, place of employment, or any other identifying notation must be removed completely. Any marks breaking the anonymity of the submission will disqualify the entry.
The language of all used musical terms and expressions should be in English or Italian. The composer is allowed to add a short presentation of his work.
Admission requirements
Age limit
The Competition is open to any person without limit of age.
Details for registration
Candidates may register directly on our website www.ipcl.lu.
Registration will not be considered as final until the following documents have been received:
Musical score (cf. presentation of the composition) as well as the following documents:
curriculum vitae, mentioning the artistic/musical career (studies, teachers …)
birth certificate or copy of the identity card/passport (certified copy)
valid proof of payment of the registration fee
a recent high-quality black/white photo which is free of copyright and suitable for publicity purposes and publication
Composers may enter any number of pieces they wish into the Competition but must pay the registration fee for each piece entered.
Application deadline
September 16th, 2019: Opening of the registration
March 25th, 2020: Deadline for submission
Registration fee
The registration fee for the IPCL Composition Competition is 20€ (twenty euro) per piece and has to be transferred to the following bank account:
Account: IBAN LU33 0021 1506 5450 3900
Bank: Dexia-Banque Internationale à Luxembourg ( BIC/SWIFT: BILLLULL )
Bearer: International Percussion Competition Luxembourg a.s.b.l.
Mention: Registration fee for [ name of the composer ]
Cheques, cash transfers or any other money transfers will not be accepted.
Bank fees have to be paid by the consignor.
In any case, the registration fee is not refundable.
Procedure
In April 2020 the jury of the Competition will select the prize-winning work. The result will be posted on the website : www.ipcl.lu
The winner will receive a personal confirmation.
Official Prize
The winning composition is awarded with 2500 € and will be world-premiered in February 2021 during the preliminary round (open to the public) of the IPCL - Percussion Trio Competition in Luxembourg. A record will be made to the archives of the said Competition. This record will be issued to the composer exclusively for promotional purposes.
Jury
The decisions of the jury are irrevocable. By agreeing to take part in the Competition, all competitors undertake to accept and not contest these decisions.
Are invited in the jury:
Matthias SCHMITT (D)
Nicolas MARTYNCIOW (F)
Roland WILTGEN (L)
Paul MOOTZ (L), chairman
N.N.
Rights
The submitted composition(s) must be free of any rights and unpublished, that means it/they must not have been publicly performed, broadcast, published, copied or circulated in any other way.
Candidates are not allowed to interpret the submitted composition(s) before the results announced by the jury, April 2020.
Non-selected applicants will have full ownership of their work and will be allowed to play their composition(s) once the decision of the jury has been announced. In contrast, the winning work must not be played before the IPCL Trio Competition in February 2021.
The award-winning work remains the full and entire property of its author. However, the later undertakes to mention the name of "International Percussion Competition Luxembourg " on all visual and sound media showing the title of the work (the publishing of the score, CD, DVD, books, programs, posters, etc.). The winning work will be marked "Winner of the IPCL - Composition Competition - Edition TRIO 2021".