Duo 2018
Results
Percussion Duo 2018 Laureates
1st prize
DENDROCOPOS DUO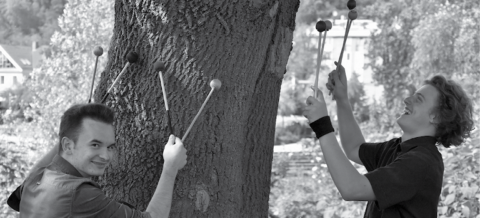 Jan ČIBEJ, 19 (Slovenia
Luka POLJANEC, 18 (Slovenia)
---
2nd prize ex aequo
Balkan Percussion Duo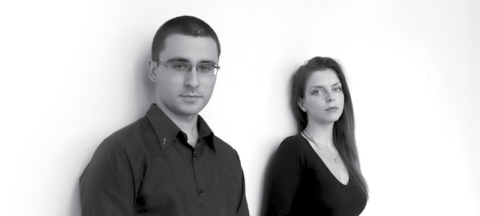 Kiril ANGELOV, 25 (Bulgaria)
Ksenija KOMLJENOVIĆ, 29 (Serbia)
Te l Ling Percussion Duo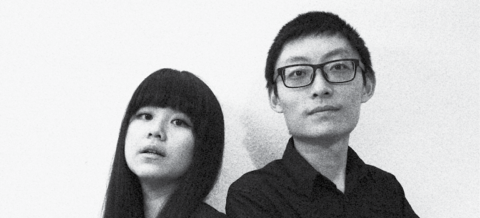 Yao-Te HSIEH, 24 (Taiwan, R.O.C.)
Ling LU, 27 (Taiwan, R.O.C.)
---
'Ady Mootz' prize for the best interpretation of the set piece in the semi-final
Te l Ling Percussion Duo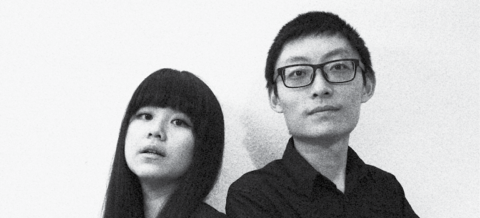 Yao-Te HSIEH, 24 (Taiwan, R.O.C.)
Ling LU, 27 (Taiwan, R.O.C.)
---
Public prize 'Jean Gieres' determined by the audience during the final round
DENDROCOPOS DUO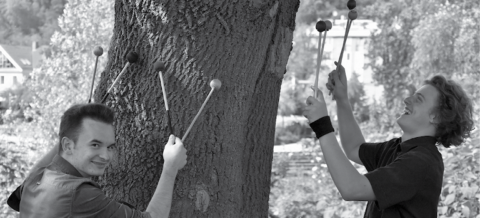 Jan ČIBEJ, 19 (Slovenia
Luka POLJANEC, 18 (Slovenia)
Percussion Duos having qualified for the Final Round
Balkan Percussion Duo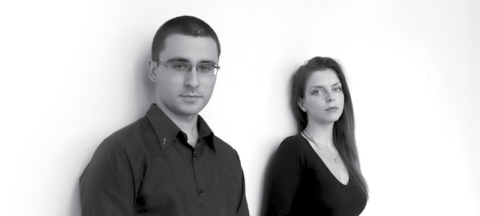 Kiril ANGELOV, 25 (Bulgaria)
Ksenija KOMLJENOVIĆ, 29 (Serbia)
DENDROCOPOS DUO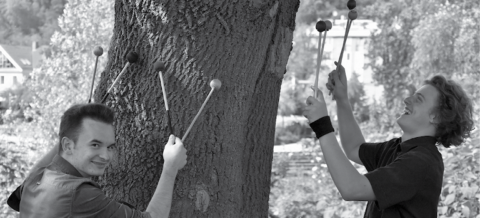 Jan ČIBEJ, 19 (Slovenia
Luka POLJANEC, 18 (Slovenia)
Te l Ling Percussion Duo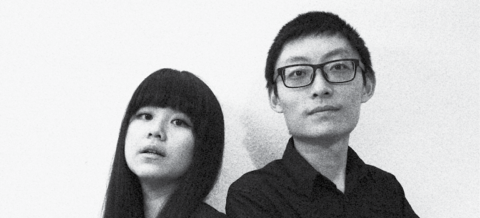 Yao-Te HSIEH, 24 (Taiwan, R.O.C.)
Ling LU, 27 (Taiwan, R.O.C.)
Percussion Duos having qualified for the Semi Final Round
Balkan Percussion Duo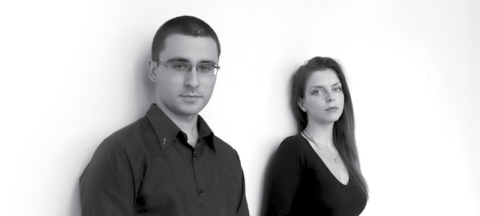 Kiril ANGELOV, 25 (Bulgaria)
Ksenija KOMLJENOVIĆ, 29 (Serbia)
DENDROCOPOS DUO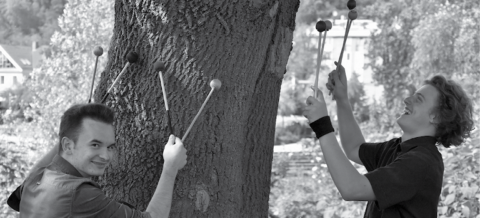 Jan ČIBEJ, 19 (Slovenia)
Luka POLJANEC, 18 (Slovenia)
FLAM-A DUO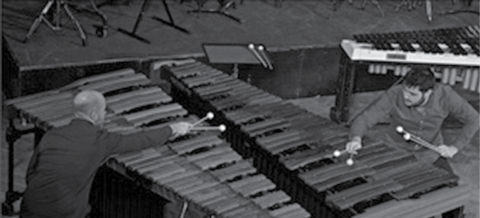 Francesco MAZZOLENI, 25 (Italy)
Luis CAMACHO MONTEALEGRE, 24 (Spain)
happy turn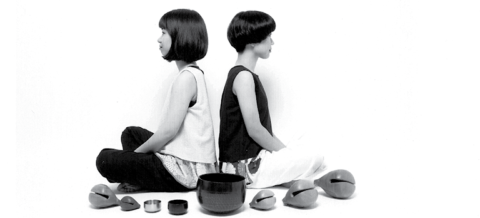 Maiko TOMITA, 25 (Japan)
Karin TOZAKI, 26 (Japan)
Membranophōn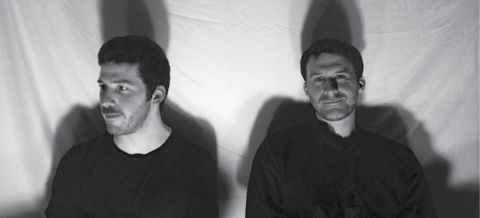 Peter WHITE, 26 (USA)
Joseph DEMARCO, 26 (USA)
Panduo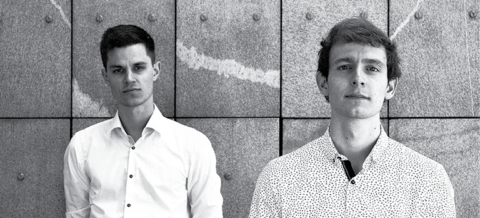 Filip KOROŠEC, 23 (Slovenia)
Žiga PETRIČ, 23 (Slovenia)
Symposie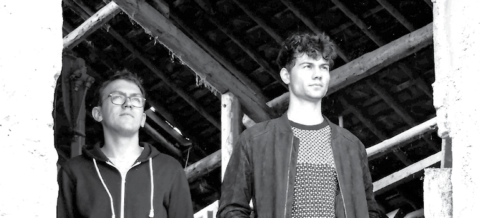 Lucas MESSLER, 23 (France)
Pierre HURTY, 22 (France)
Te l Ling Percussion Duo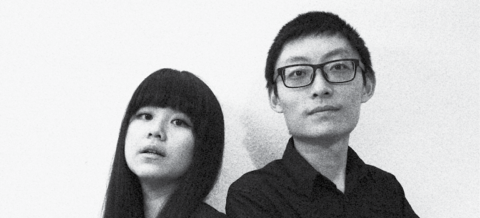 Yao-Te HSIEH, 24 (Taiwan, R.O.C.)
Ling LU, 27 (Taiwan, R.O.C.)
xSight@ Percussion Duo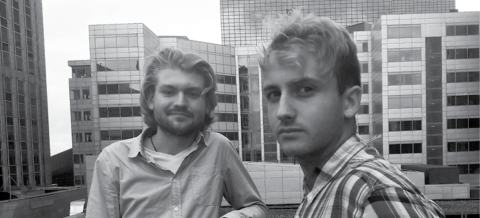 Jose MIÑARRO, 22 (Spain)
Georgi TSENOV, 24 (Bulgaria)
Program & tickets
Tickets
Final
Sunday, 18th February 2018 – 15h00
Presentation: Olivier CATANI
---
Balkan Percussion Duo (Bulgaria / Serbia)
Alex Mullenbach: Terra X (Imposé · Set piece)
CRÉATION MONDIALE · WORLD PREMIERE -
Astor Piazzola: Tango Suite – movement 2
Alejandro Viñao : The Book of Grooves - IV. Dance Groove Drifting
Johann Sebastian Bach: Toccata and Fugue in D minor, BWV 565 (arr. K Komljenovic)
TE l Ling Percussion Duo (Taiwan, R.O.C.)
Alex Mullenbach: Terra X (Imposé · Set piece)
Gene Koshinski : As One
Johann Sebastian Bach: Italian Concerto in F major – 1st movement, BWV 971
Jan van Landeghem : Shakti
DENDROCOPOS DUO (Slovenia)
Alex Mullenbach: Terra X (Imposé · Set piece)
Daniel Nikolaus Wirtz: Das Lied vom jungen Akkordeonspieler
Domenico Scarlatti : Sonata K.141 (arr. Tchiki Duo)
Igor Stravinski: Tango
Nebojša Živković: Sex in the Kitchen
---
Jury's deliberation
30th anniversary birthday cake
20:00 - Prize awarding
Semifinals
Thursday, 15th February 2018 - 20h00
Membranophõn (USA)
Jacob ter Veldhuis: Goldrush (Imposé · Set piece)
Alyssa Weinberg: Table Talk
Robert Marino: Eight on 3 and Nine on 2
TE l Ling Percussion Duo (Taiwan, R.O.C.)
Jacob ter Veldhuis: Goldrush (Imposé · Set piece)
Csaba Zoltán Marján: Lemuria – The Fallen Civilization
Tomer Yariv: Gyro
FLAM-A DUO (Italy / Spain)
Jacob ter Veldhuis: Goldrush (Imposé · Set piece)
Gene Koshinski: As One
Adi Morag: Octabones
Friday, 16th February 2018 - 10h00
DENDROCOPOS DUO (Slovenia)
Jacob ter Veldhuis: Goldrush (Imposé · Set piece)
Robert Marino: Eight on 3 and Nine on 2
Adi Morag: Octabones
Balkan Percussion Duo (Bulgaria / Serbia)
Anna Ignatowicz-Glinska: Passacaglia
Jacob ter Veldhuis: Goldrush (Imposé · Set piece)
Tomer Yariv: Gyro
happy turn (Japan)
Robert Marino: Eight on 3 and Nine on 2
Jacob ter Veldhuis: Goldrush (Imposé · Set piece)
Steve Reich: Nagoya Marimbas
Friday, 16th February 2018 - 15h00
xSIGHT@ Percussion Duo (Spain / Bulgaria)
Jacob ter Veldhuis: Goldrush (Imposé · Set piece)
Gene Koshinski: As One
Adi Morag: Octabones
PANDUO (Slovenia)
Jacob ter Veldhuis: Goldrush (Imposé · Set piece)
Gene Koshinski: As One
Avner Dorman: Udacrep Akubrad
Symposie (France)
Jacob ter Veldhuis: Goldrush (Imposé · Set piece)
Robert Marino: Eight on 3 and Nine on 2
Thierry de Mey: Silence must Be!
Decision of the jury and drawing lots
Preliminary Round
Sunday, 11th February 2018 - 15h00
Twincussion (Taiwan, R.O.C.)
Per Nørgård: Re-percussion
Jiaying Zhou: Astral Trip (Imposé · Set piece) - Création Mondiale · World Premiere
S-Tick (South-Corea)
Jiaying Zhou: Astral Trip (Imposé · Set piece)
Alejandro Viñao: Arabesco Infinito
Concussion Duo (Sweden)
Albert Schnelzer: Thunder Dance
Jiaying Zhou: Astral Trip (Imposé · Set piece)
Sunday, 11th February 2018 - 20h00
DENDROCOPOS DUO (Slovenia)
Jiaying Zhou: Astral Trip (Imposé · Set piece)
Nebojša Živkovi : Ultimatum II
Membranophõn (USA)
Jiaying Zhou: Astral Trip (Imposé · Set piece)
Maki Ishii: Fourteen Percussions
Little Big Percussion Duo (Taiwan, R.O.C. / Poland)
Jiaying Zhou: Astral Trip (Imposé · Set piece)
Ludwig van Beethoven: Piano Sonata no.21, op.53 in C major - 1st mvt
Grey Motion (Luxembourg)
Jiaying Zhou: Astral Trip (Imposé · Set piece)
Alejandro Viñao: Book of Grooves - IV. Dance Groove Drifting
Monday, 12th February 2018 - 15h00
Symposie (France)
Jiaying Zhou: Astral Trip (Imposé · Set piece)
Philippe Manoury : Le livre des claviers - II.
CRISIS (Japan)
Jiaying Zhou: Astral Trip (Imposé · Set piece)
Tomer Yariv : Gyro
PaloRosa Dúo (Spain)
Jiaying Zhou: Astral Trip (Imposé · Set piece)
Manuel de Falla: El Sombrero del tres picos
Monday, 12th February 2018 - 20h00
happy turn (Japan)
Cayenna Rosa Ponchione: Rumble Stiltskins
Jiaying Zhou: Astral Trip (Imposé · Set piece)
POPOCATEPETL PERCUSSION DUO (Italy)
Jiaying Zhou: Astral Trip (Imposé · Set piece)
Tomasz Golinski: The Absurd World No.2
KronaPercussion (Germany)
Jiaying Zhou: Astral Trip (Imposé · Set piece)
Adi Morag: Octabones
Percussion Duo ONE (Japan / South Korea)
Siegfried Kutterer: Straight Inside
Jiaying Zhou: Astral Trip (Imposé · Set piece)
Tuesday, 13th February 2018 - 15h00
Percatory (Denmark / Norway)
Jiaying Zhou: Astral Trip (Imposé · Set piece)
Anders Koppel: Toccata for marimba and vibraphone
Lee and Lang (Taiwan, R.O.C. / Germany)
Jiaying Zhou: Astral Trip (Imposé · Set piece)
Rolf Wallin: Twine
Balkan Percussion Duo (Bulgaria / Serbia)
Jiaying Zhou: Astral Trip (Imposé · Set piece)
Anders Koppel : Toccata for marimba and vibraphone
FLAM-A DUO (Italy / Spain)
Jiaying Zhou: Astral Trip (Imposé · Set piece)
Igor Lešnik: Nino Nina
Tuesday, 13th February 2018 - 20h00
PANDUO (Slovenia)
Jiaying Zhou: Astral Trip (Imposé · Set piece)
Adi Morag: Octabones
xSIGHT@ Percussion Duo (Spain / Bulgaria)
Jiaying Zhou: Astral Trip (Imposé · Set piece)
Robert Marino: Eight on 3 and Nine on 2
TE l Ling Percussion Duo (Taiwan, R.O.C.)
Jiaying Zhou: Astral Trip (Imposé · Set piece)
Avner Dorman: Udacrep Akubrad
Decision of the jury and drawing lots
Percussion Fair
IPCL -EXPO
at the cafeteria
14.-19.2. ESSEBI
handmade custom drums, restoration and repair service
14.-18.2. BEURSKENS MUZIEKUITGEVERIJ
partitions / scores
15.-19.2. ADAMS
musical Instruments
15.-16.2. RESTA-JAY Percussions
fabrication et réparation de baguettes / making and reparing of mallets
16.-18.2. VIBRAWELL
baguettes / mallets
16.-18.2. BRANDT PERCUSSION - NOTEN - VERSAND
...der Spezialist für Noten, CDs, DVDs, Sticks und Mallets für Drums & Percussion
Admitted Duos
Âkzent Percussion Duo Dominik ENGLERT, 21 (Germany)
Josef TREUTLEIN, 21 (Germany)
arx duo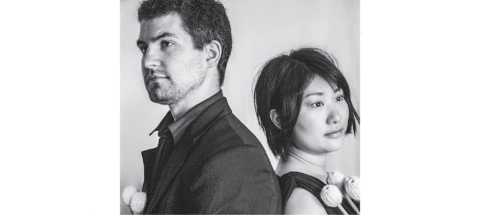 Garret ARNEY, 29 (USA)
Mari YOSHINGA, 30 (Japan)
Balkan Percussion Duo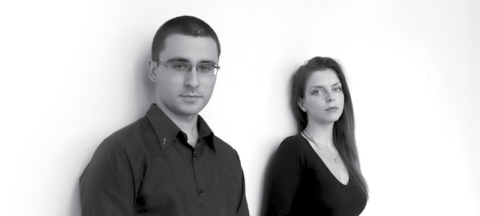 Kiril ANGELOV, 25 (Bulgaria)
Ksenija KOMLJENOVIĆ, 29 (Serbia)
BlueMoon Percussion Duo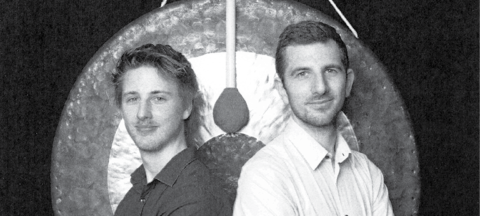 Mirco HUSER, 23 (Switzerland)
Tim REICHEN, 24 (Switzerland)
Cc Percussion Duo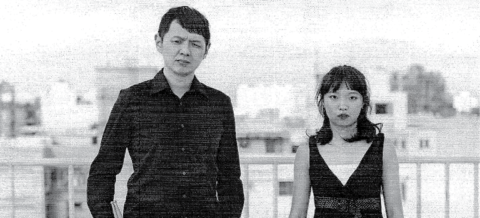 Tzu-En CHANG, 24 (Taiwan, R.O.C.)
Yang CHEN, 28 (Taiwan, R.O.C.)
Concussion Duo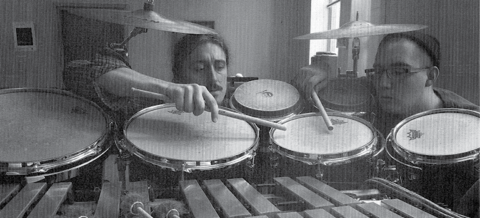 Elias GUSTAFSSON, 23 (Sweden)
Rasmus JŌNSSON HANSSON, 24 (Sweden)
CRISIS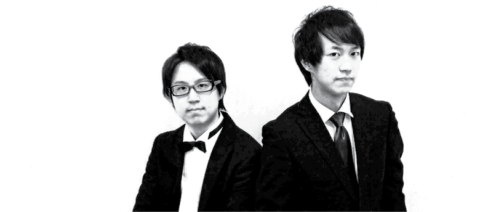 Genya ISHIZAKI, 22 (Japan)
Riku KURATA, 22 (Japan)
Cyti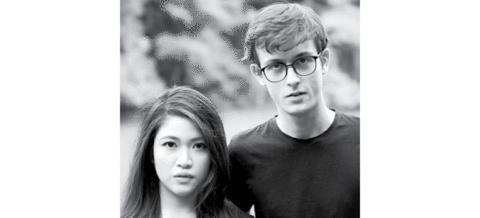 Chiao-Yuan CHANG, 25 (Taiwan, R.O.C.)
Till LINGENBERG, 21 (Germany)
DENDROCOPOS DUO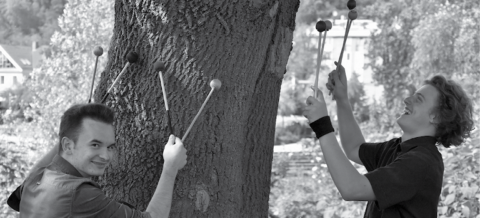 Jan ČIBEJ, 19 (Slovenia)
Luka POLJANEC, 18 (Slovenia)
DoubleBeats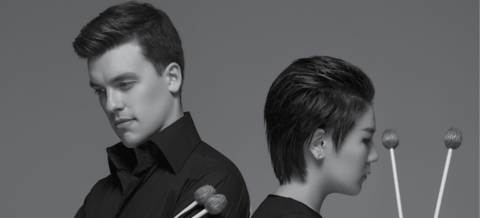 Ni FAN, 28 (Germany)
Lukas BÖHM, 27 (Germany)
Double Skins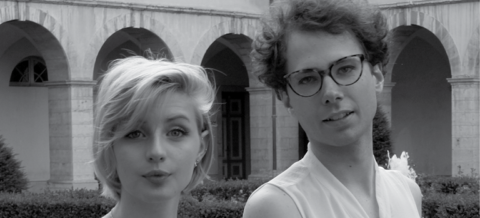 Olivia MARTIN, 21 (France)
Florent DUVERGER, 26 (France)
Erga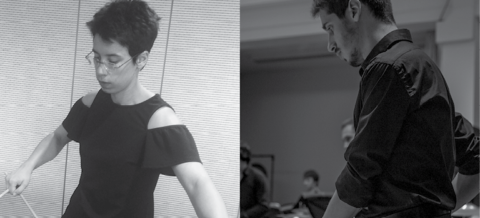 Louis QUILES, 25 (France)
Manon ROCHÉ, 22 (France)
FLAM-A DUO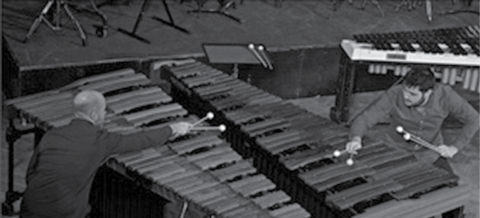 Francesco MAZZOLENI, 25 (Italy)
Luis CAMACHO MONTEALEGRE, 24 (Spain)
GIRR DUO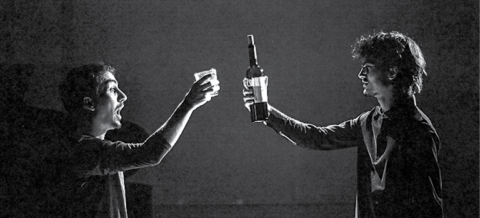 Antoine BROCHERIOUX, 25 (France)
Zacarias Lucas MAIA DA SILVA, 24 (Brazil)
Grey Motion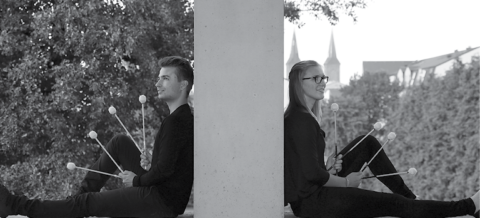 Béatrice PICARD, 18 (Luxembourg)
Pit DAHM, 19 (Luxembourg)
happy turn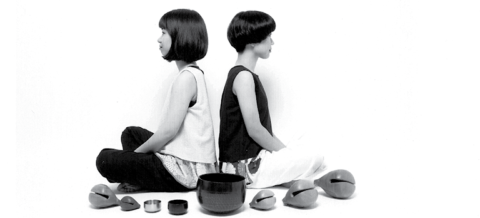 Maiko TOMITA, 25 (Japan)
Karin TOZAKI, 26 (Japan)
Kezzy Percussion Duo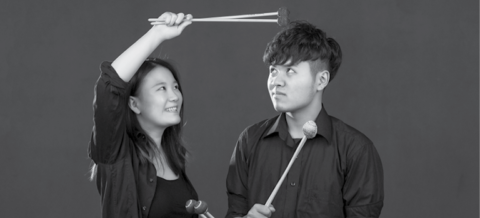 Yuxi KANG, 22 (China)
Cheng PAN, 19 (China)
KronaPercussion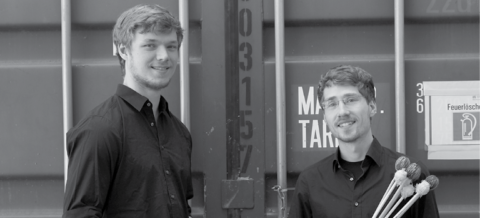 David GUTFLEISCH, 25 (Germany)
Felix ERNST, 25 (Germany)
Lee and Lang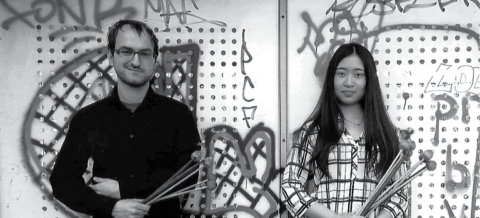 Min-Tzu LEE, 27 (Taiwan, R.O.C.)
Franz LANG, 25 (Germany)
Linea Percussion Duo João Miguel BRAGA SIMÕES, 25 (Portugal)
Vitor CASTRO, 24 (Portugal)
Little Big Percussion Duo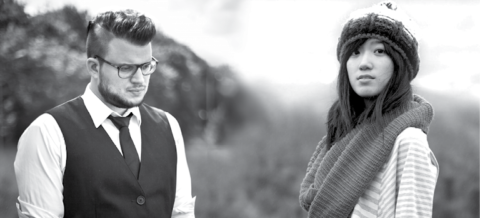 Hsin-Hsuan WU, 30 (Taiwan, R.O.C.)
Bartek MILER, 25 (Poland)
Membranophōn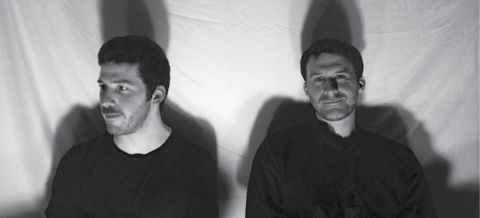 Peter WHITE, 26 (USA)
Joseph DEMARCO, 26 (USA)
Percussion Duo ONE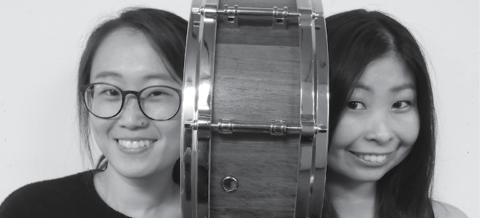 Nanae KUBO, 28 (Japan)
Yuyoung JIN, 29 (South Korea)
PaloRosa Dúo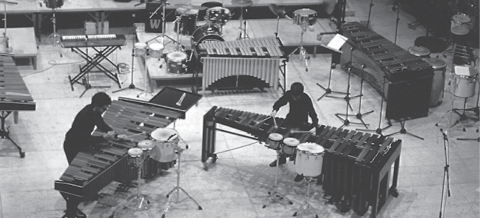 Augustin AGUIRRE, 24 (Spain)
Andoni VILLAFRANCA MARTĺNEZ, 25 (Spain)
Panduo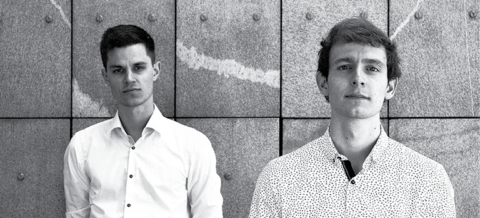 Filip KOROŠEC, 23 (Slovenia)
Žiga PETRIČ, 23 (Slovenia)
Percatory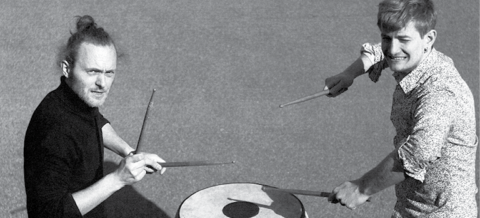 Kasper GRØN, 26 (Denmark)
Joakim Stakston OLSRUD, 23 (Norway)
POPOCATEPETL PERCUSSION DUO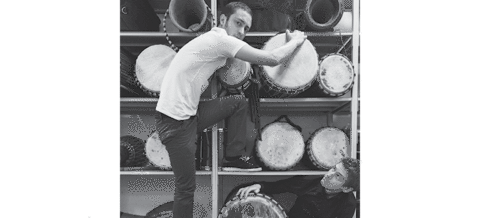 Gabriele PETRACCO, 31 (Italy)
Marko JUGOVIC, 25 (Italy)
Rhythm Factory
Kang-Jung SUNG, 29 (Taiwan, R.O.C.)
Ari KIM, 28 (South Korea)
S-Tick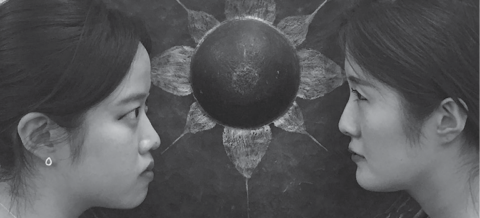 Jiyeon KIM, 26 (South Korea)
Hyeji BAK, 26 (South Korea)
Symposie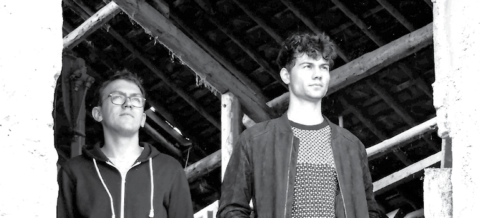 Lucas MESSLER, 23 (France)
Pierre HURTY, 22 (France)
Te l Ling Percussion Duo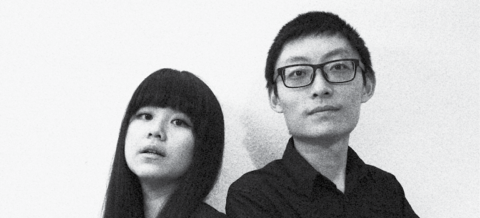 Yao-Te HSIEH, 24 (Taiwan, R.O.C.)
Ling LU, 27 (Taiwan, R.O.C.)
The marimbix Duo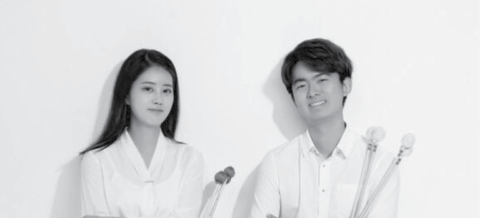 Youngha KWON, 20 (South Korea)
Myeongjo SON, 24 (South Korea)
Twincussion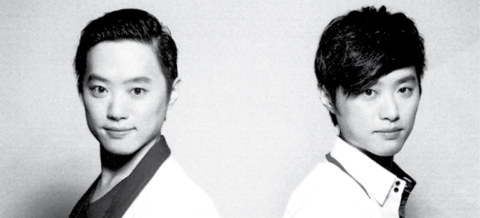 Jen-Ting CHIEN, 30 (Taiwan, R.O.C.)
Jen-Yu CHIEN, 30 (Taiwan, R.O.C.)
xSight@ Percussion Duo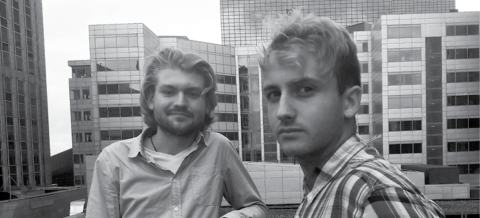 Jose MIÑARRO, 22 (Spain)
Georgi TSENOV, 24 (Bulgaria)
Jury
Paul MOOTZ (Luxembourg), chairman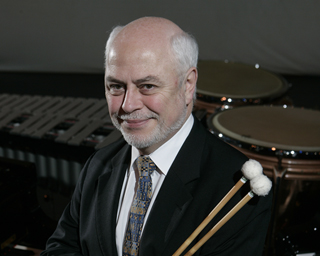 Paul Mootz, born in Luxembourg in 1952, began his musical studies in Theory, Piano, Harmony, Chamber Music and Percussion at the Music Conservatoire of Luxembourg-City. Further professional studies were then pursued at the Conservatoire National Supérieur de Paris where he obtained diplomas in sight-reading, theory and analysis and was awarded First Prize in Percussion as a student of Jacques Delécluse.
In 1982, he participated in the 'Concours International de Genève' and successfully reached the semi-final round of the competition. During the same year he was accepted at the 'Musikhochschule of Würzburg' (Germany) where he commenced percussion studies with Siegfried Fink and was thus awarded in 1984 the 'Meisterklassendiplom'. Solo percussionist with the RTL Symphonic Orchestra for 10 years, Paul Mootz has also served as percussion teacher at the Music Conservatoire of Esch-sur-Alzette since 1978. In 1985, he has been named Professor of Percussion and Chamber Music at the Music Conservatoire of Luxembourg-City. From December 2001 until September 2004, Paul Mootz was the deputy director of Luxembourg-City's Music Conservatoire.
In 1982 and in 1993 he created the percussion ensembles Luxembourg Percussion and Mariendall and since then has conducted a number of concert tours in Luxembourg, Europe, United States of America, Canada and Australia with great success. Apart from his work with many chamber ensembles he has performed as soloist with such notable musicians as Peter Sadlo and Walter Civitareale at the Music Festivals of both Echternach and Wiltz.
Also a composer and arranger, Paul Mootz writes a great deal of his compositions for his many students and for percussion ensembles. He is also president of the International Percussion Competition Luxembourg and Axent, Luxembourg's percussion association.
Boris DINEV (Bulgaria/Luxembourg)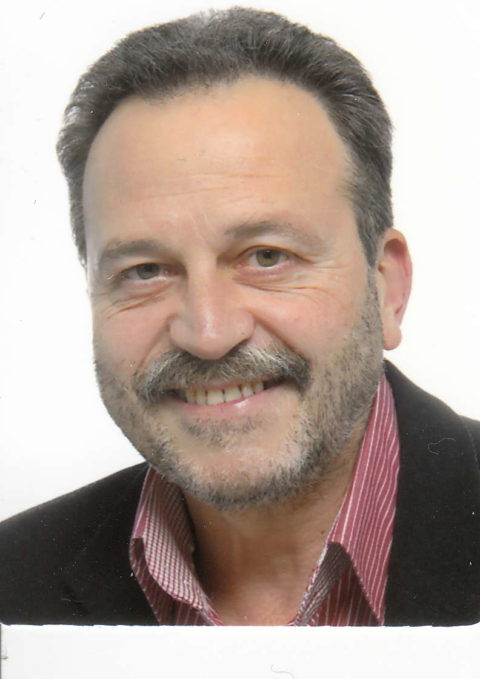 Boris Dinev graduated from National Music School - Sofia and enrolled into National Music Academy under the guidance of percussion professor Dobri Paliev.
Boris is a co-founder of the percussion quartet Polyrhythmia, which performed in several major festivals throughout Europe, Japan, Ex-USSR, Cuba, Tunisia, Algeria, USA etc.
Polyrhythmia won the 3rd prize and was awarded the Audience Prize on the First International Percussion Competition in Luxembourg in 1989.
Boris performed as a soloist in Sofia Philharmonic Orchestra and Bulgarian Radio Orchestra, among others.
He performed with Bulgaria's most popular jazz musicians, in various international music festivals, such as the Jazz Jamboree, Prague Jazz Fest, Sofia Jazz Meeting, Sibiu Jazz Fest, Havana Jazz Festival, etc.
From 1981 to 1991, he worked as a professor at Bulgarian Music Academy's Jazz Department.
Since 1991 Boris Dinev has been living in Luxembourg, lecturing at the Music School of Echternach and at the North Conservatory.
Philippe LIMOGE (France)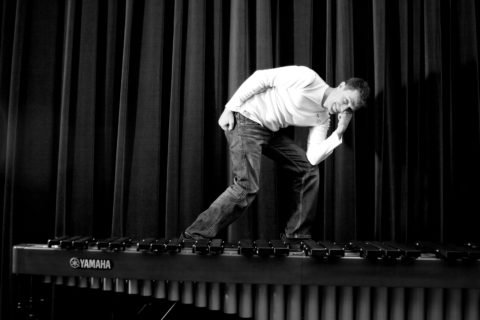 Having started to play drumset at the age of 9 years, Philippe Limoge continues to learn Percussion at the Conservatoire de Troyes et Boulogne-Billancourt, before joining the Conservatoire National Supérieur de Musique et de Danse de Paris where he receives the 1rst Prize unanimously (class of Jacques Delécluse), followed by a 3rd cycle of chamber music (class of Michel Cals). He is a laureate of the Concours International de Vibraphone de Clermont-Ferrand in 1999 and the Gaudeamus Competition in Rotterdam.
After spending a long time performing in orchestras in Paris (Orchestre de Paris, Orchestres de Radio France, Opéra de Paris, Ensemble Intercontemporain…) under renowned conductors (P. Boulez, E. Krivine, A. Jordan, L. Maazel…), he now concentrates on soloist repertoire, chamber music and concertos with orchestra. Severals composers dedicated him pieces (J. Mérah, J.C. Henry, J. Pampin, J.L. Rimey- Meille, D. Benetti, E. Sammut, Marc Lys, …). He has played in Spain, Canada, Japan, England, Luxembourg, Italy...
Actually, Philippe Limoge teaches at the Conservatoire de Région de Montpellier. Every year, he organizes in Limoges a summer academy, called Epsival, where students come from all over the world.
Discography:
Percuduo "Acousticks" 2010
Octobone 2 with Michel Becquet 2007
Octobone 1 with Michel Becquet 2005
Philippe Limoge «Magic Vibes» 2005
Duo Gakou «JAWS» septembre 2002 *
Artist : Yamaha, Sabian, Lacroix Sticks
Katarzyna MYĆKA (Poland)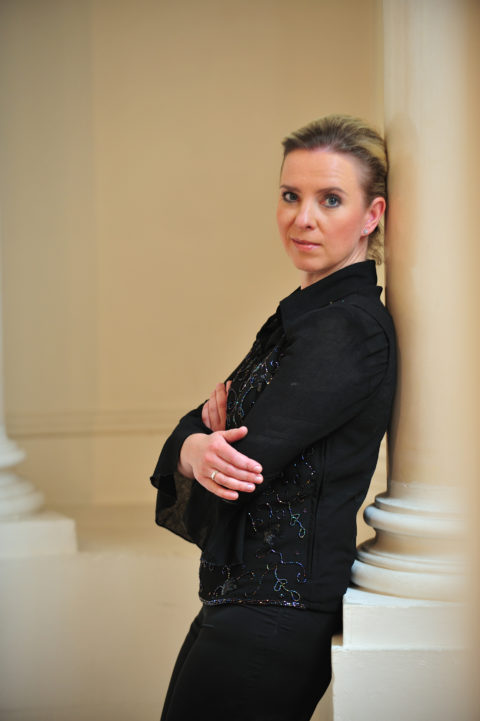 Critics have given the internationally renowned marimba virtuoso and chamber musician Mycka the sobriquet " she who dances with the mallets ": " the greatest fluidity ", " perfect mallet technique, " and a " marvelous, rhythmic precision " are characteristic for the musician, who is able to simultaneously produce up to six tones on her concert marimba with the sixty narrow wooden bars and resonance pipes.
Expert circles testify to the " extraordinary richness of tone quality " and " fascinatingly broad palette of musical effects " that the marimba, which is rarely heard as a solo instrument, produces under the whirling mallets of the musician from Stuttgart with Polish roots. Audiences are also enthralled by the artistic elegance and dance-like energy of her playing.
After receiving training in piano and drums, the artist born in 1972 discovered the marimba as her "ideal medium for musical expression" while studying at music academies in Gdansk, Stuttgart, and Salzburg. Numerous prizes and awards at international
music competitions then followed: in 1995, first prize and audience prize at the International Percussion Competition Luxembourg for Marimba Solo, one year later first place at the First World Marimba Competition Stuttgart. Then followed stipends and invitations to master courses in the United States, Asia, and various European countries, through which
the young musician soon developed a network in the music scene.
Appearances as a soloist at the most important marimba festivals (Osaka 1998, Linz 2004, Minneapolis 2010) as well as solo parts with well-known orchestras in many parts of the world (Stuttgart Philharmonic Orchestra, Bochum and Göttingen Symphony
Orchestras, Polish Chamber Philharmonic Sopot, Vienna, Prague and Heilbronn Chamber Orchestra (WKO), Beijing Symphony Orchestra, Camerata Israeli, Maribor, Neubrandenburg and Vogtland Philharmonic Orchestras, Folkwang Chamber Orchestra, RSO Luxemburg as well as diverse other Polish symphony orchestras) today make Katarzyna Mycka one of the leading pioneers in her still young instrument.
The large concert marimba has only existed in its current form since the mid-1980s. Katarzyna Mycka, who was honored by the Polish Percussive Arts Society in 1999 as " Ambassadress of Polish Percussion Art, " emphatically promotes the popularization
of the marimba. For her, this includes a commitment to training young players and participation in juries at international competitions, but in particular the International Katarzyna Mycka Marimba Academy (IKMMA), which she established in 2003.
The artist's multifaceted solo program includes not only transcriptions of the works of Johann Sebastian Bach or Sergei Prokofiev, but also original compositions by younger composers such as Emmanuel Séjourné or Anna Ignatowicz. The artist has in the meantime recorded a cross-section of her repertoire on six CDs.
Katarzyna Mycka dedicates "a lot of time and enthusiasm" to collaborating with composers who "explore and understand the special and marvelous sound of the marimba." In this, the guiding principle, says the musician to whom numerous concerts and chamber music works have been dedicated, is "musical trust."
She also connects such trust with the renowned Mandelring Quartet, which has become a regular partner. The four strings and Mycka's marimba are a highly unusual combination, which astounds and delights critics and audiences in equal measure "marvelously rich in tone..., always with elegant sound and in inspired communion."
Fumito NUNOYA (Japan)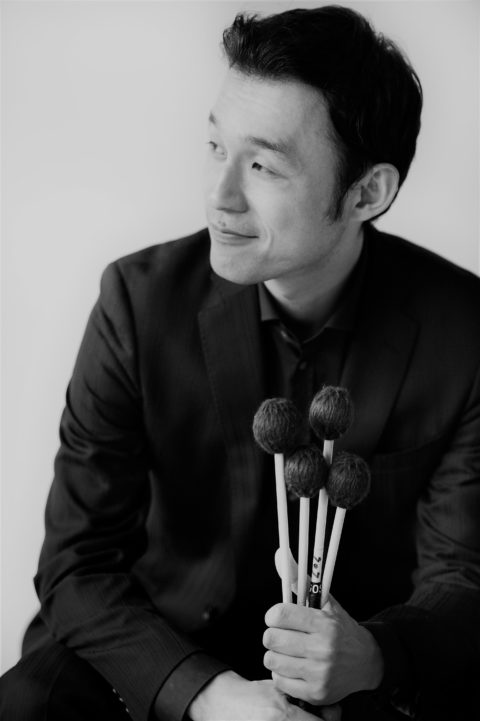 Marimbist Fumito Nunoya is gaining recognition internationally as one of today's leading marimbists. Born in Odate, Japan (a small city in Akita Prefecture) in 1979, he currently lives in Kreis Herford, Germany. He has taught marimba at the Hochshule
für Musik Detmold in Germany since 2009. In addition to performances in Germany and around Europe, he regularly travels to perform in Japan and the USA as an Adams Marimba Artist.
An interview with Nunoya was the cover story of the May 2012 issue of Percussive Notes magazine. He has been described as "magnetic … impressive" (Houston Chronicle) and "agile and terrifically talented" (Boston Herald). His repertoire includes a range of solo and chamber works for marimba, as well as adaptations of Bach, Piazzolla, Japanese folk music, Ennio Morricone and more.
His debut CD "Red Dragonfly" was called a "monumental CD" (Percussive Notes) and "an example of artistic music making at its highest level" (PAS—Florida Chapter newsletter), and his second CD "The Sower", in which he focused on Japanese pieces, was released in August 2013 from Octavia Records, Japan. In August 2016, he released two CDs ("Piazzolla on Marimba" and "Classics on Marimba") from Oehms Classics, and both CDs received special commendation awards from Record Geijutsu Magazine
in Japan.
Nunoya gained considerable attention when he won Third Prize at the 3rd World Marimba Competition. He also won top prizes at many other national and international competitions including First Prize at the Ima Hogg Competition in USA, First Prize at the 3rd Libertango International Competition in Italy (centered on the music of Astor Piazzolla), and Second Prize at Percussive Arts Society International Marimba Competition in USA.
After graduating from Yamagata University (Japan) with a degree in Music Education, he went on to study his Master of Music and Artist Diploma degrees in marimba performance under Nancy Zeltsman at The Boston Conservatory (USA). He was the first marimba (or percussion) major in the school's history to receive the later distinction (on full scholarship).
Bart QUARTIER (Belgium)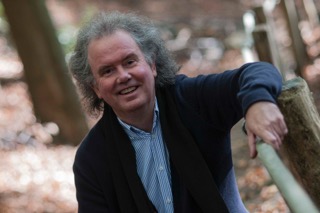 After his studies of percussion, Bart specialized in marimba, with Robert Van Sice. Bart has been invited by more than sixty orchestras and ensembles and has been performing on various musical fields, for 30 years, such as classical music, opera, contemporary, ancient, chamber music, percussion groups, Chanson, Variété …
Since 1990, Bart has been giving courses of vibraphone and marimba (classical and jazz) at "Koninklijk Conservatorium Brussel". As a clinician and jury member, Bart was invited in The Netherlands, Norway, Germany, Luxembourg, Switzerland, France, Italy, Spain, Portugal, South Korea and Japan.
His books "Image - 20 Children's Songs for Marimba", "Profils - 24 essais pour vibraphone et piano", "Encore", "Imagine - a mental approach to marimba playing" (English, French and Spanish), "Ensemble - 24 pieces for mallet ensemble" and "Focus - 24 Images for Vibraphone" met an international success among well-known editors such as Hal Leonard, Lemoine, Norsk Musikforlag...
Bart was the laureate of the "Concours de composition jazz - thèmes Sabam" in 2000 and in 2002. With his own quintet, Bart recorded "Thank You" and "Profils" in duo with Bart van Caenegem chez "De Werf", Belgium. "Image" and "Focus" can be found
on his last double record "Life Path". As a sideman, Bart can be found on more than 70 CDs and has been on tour in Europe, the USA, Korea and Japan.
Matthias SCHMITT (Germany)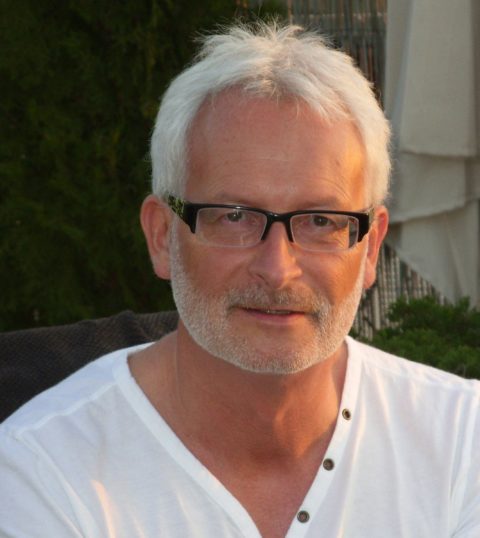 Matthias Schmitt (born 1958, in Würzburg/Germany) studied piano, composition (film and stage-music) and percussion.
Parallel to this, he also received a recording contract with BMG Ariola with his band «Neuland» and recorded his first pop album.
During his studies with Siegfried Fink at the Hochschule für Musik Würzburg he composed his first work for percussion "Cabo Frio ". He was in contact with such diverse styles as jazz, avantgarde, minimalmusic, latinpercussion, african-percussion, rock etc. He performed with percussion-ensembles and studied solo-literature, culminating in the completion of his university diploma at the Würzburg Hochschule in 1984.
Since then, Matthias Schmitt has taught and lectured at various institutions including the Universitiy of Applied Science Würzburg-Schweinfurt,Peter-Cornelius Konservatorium in Mainz and the Hochschule für Musik in Würzburg and many more...
Schmitt joined the pop-group «Relax» from 1988 to 1995. Not only did he tour Germany, Austria, Switzerland, and Belgium, but he also recorded and coproduced several CDs which have been presented on numerous radiostations and television shows...
At the same time he wrote and co-produced 4 albums for Michael Schanze(german entertainer)
In 1995 he founded the Clavis-Musikschule (his own private music-school) and has developed and published new pedagogical concepts since that time.
Since 1996, he has focused on percussion-music, and these compositions have been performed globally. «Ghanaia» (written in 1996), first recorded by Katarzyna Mycka for her first album called " Marimba Spititual " became the compulsory piece at the 1999 International Marimba Competition in Okaya-Japan and again in 2003 in Paris.
6 Miniatures for marimba solo, which he dedicated to Katarzyna Mycka, were recorded by Katarzyna 2 years later for her second solo album called " Marimba Dance ".
In 2004 he conducted the world premiere of his concerto for marimba and string orchestra (or quartet), «One World», at the international marimbafestival in Linz (Austria). It was met with great success.
In 2006 he produced the solo CD with Evgeniya Kavaldzhieva performing, «A Tribute to Charlie», featuring his solo works for marimba and vibraphone.
Also in this year he composed «2-Gather», a compulsory piece for the international marimba competition in Belgium in 2007.
In 2007 he produced, performed and published the textbook, «Let's DruM Together», in English and German for djembe and conga.
Numerous pieces for solo marimba, marimba-duo, chamber-music, percussion-ensemble-pieces and pedagogical pieces were published throughout the years.
The premiere of " Agnus Dei " for mixed choir and marimba occurred in 2011 in Würzburg, the USA premiere in NY in 2013. Soloist at both concerts:Evgenviya Kavaldzhieva
Between these events he produced the CD " Agnus Dei " with the Bachchor Würzburg (conductor: Christian Kabitz) and Evgeniya Kavaldzhieva Marimba and a documentation on youtube " Agnus Dei Making " of in German and Englisch.
" 20 years Ghanaia " is a documentation produced by Nicolas Unger about Matthias, his musical and his pedagogical work, which can be seen on youtube end of 2017.
His percussion compositions have become standard repertoire for world-famous soloists and ensembles around the world.
Set pieces
Preliminary Round
Astral Trip - Jiaying Zhou
Prize-winning work of the IPCL Composition Contest
Axent Edition, available at Percussion Brandt
The music of Southeast Asia has a characteristic flavor and makes people enter a state of meditation. Many cultures have some kinds of magical music which can free one's spirit out from the body. Generally it is repetitively mechanically performed by an instrument or through a dance. By the time going on, people enter psychedelic states gradually. This is known as 'dedication' to communicate with the gods.
It makes me feel the fantastic interaction between music and humanity.
This piece uses the pith materials which are similar to Gamelan music composed with the techniques of Minimalism music and a logic-like digital as in games.
I want to express this alternately mechanical and clever music through stretches of breath.
Jiaying ZHOU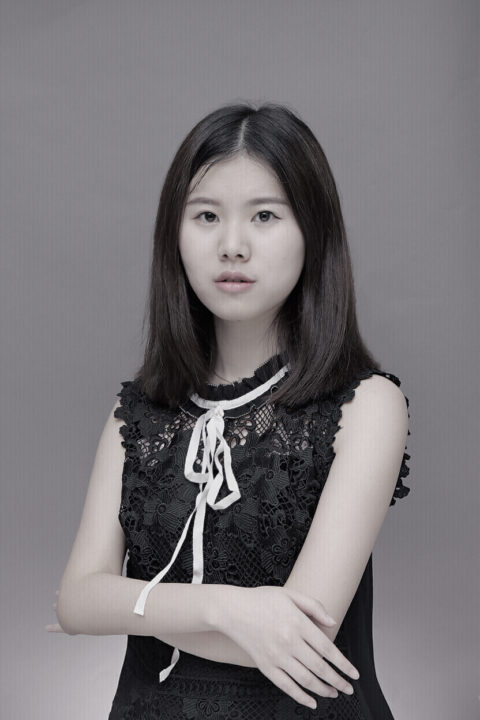 Jiaying Zhou was admitted to the Shanghai Conservatory of Music in 2014, majoring in the composition of music for national instruments, instructed by Dr. Su Xiao. In recent years, most of her creations are specific for national chamber music, Chinese orchestral music and the orchestration field.
Among them, the composition "ASTRAL TRIP" for percussion duo won the first prize of the IPCL Composition Competition in 2017 and will be the set piece for the 1st round of the IPCL Duo Competition 2018. "TELEPATHY" for pipa trio won the silver award of the "DunHuang prize". The national orchestral music "THE RHYTHM OF BRONZE" won the second prize of the tenth national (Chinese orchestra) composition competition (the first prize not being awarded).
---
Semifinal
Goldrush - Jacob ter Veldhuis
Donemus Publishing
Goldrush is not the first piece I have written for percussion. Both my symphonies and some of my chamber music works contain a lot of percussion and I have written some pieces for percussion ensemble. Percussion excites me. I grew up in the sixties and my roots are in rock culture. I played in bands, found out how to improvise and went to the Conservatory of Music to study composition. For me, rhythm is the heartbeat of the music and I think you can hear that in my work.
Composing for me always begins with ideas and sketches on which I improvise in my studio, using computers, samplers and so on. Musical inspiration comes suddenly and evaporates immediately, and modern technology helps me to hold on to it and crystallize it into a composition.
Goldrush was written at the request of the Safri Duo and it involves the whole family of percussion instruments. Although music is an abstract art form it can tell stories too.
Goldrush is an adventure; while listening to it you can imagine people exploring new land in search of gold, which led to so many catastrophies in the history of men. At the end of the piece, when you are least expecting it and after a lot of struggling, they find pure, shining gold, represented by instruments such as crotales, chimes and the Glockenspiel.
Jacob ter Veldhuis
Goldrush was released on CD in 1996
Goldrush: Works for Percussion
(CHAN 9482 CHANDOS RECORDS LTD.)
Performed by Safri Duo
---
Final
Terra X - Alex Mullenbach
Terra X, work commissioned to Alex MULLENBACH, Luxembourgish Composer
Luxembourg Music Publishers a.s.b.l.
Introduction to Terra X
In fact nearly all my works could carry the title Terra X , because as a composer one does explore in each composition undiscovered regions of one's inner landscape; even if one retrieves from time to time a place where one has already been formerly. But now we explore it in a new and more detailed way.
However in Terra X for 2 percussionists and String Quartet a supplementary Dimension is accruing, which gives this name an additional signification: I mean the exotic touch of some percussion instruments, their ethnic connotation; obsessional, conjuring rythms which make us remember ritual Dances; Motives by Gongs or Tam-Tam reminding us of Japanese Rites.
One idea seemed interesting to me: presenting motives by instruments with fixed pitch, and letting them be repeated by intruments without fixed pitch, by the way that the listener has the illusion that those instruments had actually fixed pitches.
The composition has three movements; the second movement bears the name Nocturnal sounds
Alex Mullenbach
Born 23.1. 1949 in Luxembourg. Studies a.o. at the "Conservatoire National Supérieur de Musique" in Paris and at the Mozarteum in Salzburg (piano, chamber music, composition). Since 1978 more than 100 compositions for various combinations, among them 1 opera "The Bridge of Death"(created at Ruhrfestival, Gelsenkirchen; 13 performances); 13 orchestra pieces, chamber-, vocal- and solo music). Numerous performances at international festivals (Salzburg Festival, Internat.Mozart Week Salzburg, Festival International d'Echternach, Festival du MIDEM classique Cannes, Moscow Winter Festival, Warsaw Autumn, Musica Strasburg, Barbican Center Series
London…).His works get performed by prominent soloists and Ensembles (Boris Pergamenschikow, Marjana Lipovsek, Heinrich Schiff, Julius Beger, Irena Grafenauer, Eliot Fisk, Dora Schwarzberg, Lewis Kaplan, Hagen Quartet, Vienna String Sextet, Salzburg Camerata, Musica Viva Dresden, Vienna Chamber Orchestra, Berlin Philharmonic Soloists, Parnassus Ensemble London) and conductors (Ernest Bour, Stanislaw Skrowaczewski, Leopold Hager, David Shallon, Hubert Soudant, Antoni Wit, Emmanuel Krivine…)
Active as a pedagogue (Mozarteum Salzburg, Luxemburg Conservatory), masterclasses, broadcastings, publications. Jurymember in international competitions (e.g.Queen Elizabeth Brussels, Clavicologne Vittorio Gui, Pinerolo, Granada, Malta, Osaka, Beijing). Numerous concerts throughout Europe, in Russia, Asia and in Canada as solo-and chamber-music pianist and as accompanist. Founder and chairman of the Luxembourg New Music Society LGNM (1983-94). From 2000 to 2007 President of the Luxembourg National Music Council. 2002-2013 Director of the International Summer Academy of Mozarteum Salzburg. 2007-2013 also Artistic Director of Echternach Festival. 2015 Doctor Honoris Causa from University of Music "Academie Gheorghe Dima" Cluj (Romania).
Copyright © 2010 by Alex Mullenbach – Salzburg/Austria All Rights reserved for all countries
Cheng String Quartet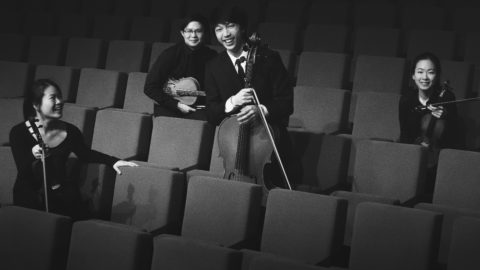 The "Cheng String Quartet" formed in 2014, the four members coming from Taiwan and all studying at the "Conservatorium van Amsterdam". The violinists of the quartet are Hui-Wen Winnie Cheng and Wan-Ru Cheng, the violist is Shih-Hsien Sam Tsai and the cellist is Sheng-Chiun Rick Lin. Since September 2016, the Quartet is committed to the master course cooperation of the "Netherlands String Quartet Academy" (NSKA) and the "Conservatorium van Amsterdam", coached by professors Marc Danel, Gilles Millet, Vlad Bogdanas, Yovan Markovitch, Stefan Metz, Dimitry Ferschtman and Kees Koelmans. They are also attending masterclasses given by the violinist of the Alban Berg Quartet, Gerhard Schulz, the violinist of Ysaÿe Quartet, Luc-Marie Aguera, Vera Martinez from "Cuarteto Casals" and the professor of Hanns Eisler School of Music Berlin, Eberhard Feltz and the Debussy Quartet.
The "Cheng String Quartet" has been invited to perform in the Royal Concertgebouw Amsterdam, Nationale Opera & Ballet, Leidse Schouwburg – Stadsgehoorzaal, TivoliVredenburg Utrecht, Conservatoire de Paris, Casa da Musica Porto and Fundação Calouste Gulbenkian Lisboa, etc.
In 2017, the "Cheng String Quartet" has been named the new fellowship quartet-in-residence at the Netherlands String Quartet Academy.
The violist Tzu-Chi Pan will be playing with the "Cheng String Quartet" at the IPCL Percussion Duo 2018. Tzu-Chi Pan is a Taiwanese violist. She is currently studying in the Master program of the Conservatorium van Amsterdam, in the class of Nobuko Imai, Marjolein Dispa and Richard Wolfe, after having received her Bachelor degree at Taiwan Taipei National University of Arts. She was a member of Seiji Ozawa Academy Orchestra in 2014 and 2017. Tzu-Chi has been invited to join Ozawa International Chamber Music Academy in 2017.
Partners and Sponsors
Patronage
Sponsors
Cercle des amis
M. ADALSTEINSSON-SCHILLING Carl, Schuttrange
M. BARTHEL Jean-Paul,Luxembourg
Mme CAHEN Corinne, Luxembourg
M. CHRISTEN Jos, Helmsange
Mme DINEV Vania, Heffingen
Mme EIFFES Christiane, Luxembourg
Mme FABECK Mariette, Luxembourg
Mme FABER Malou, Nittel
M. et Mme FOEHR-SCHAACK Henri et Martine, Luxembourg
M. FRISCH Jean-Paul, Dippach
M. GEURTZ Alexander, Walferdange
M. GIERES Jean-Marie, Luxembourg
M. GINTER Al, Helmdange
M. GIRA Camille, Beckerich
M. GOLDSCHMIDT Patrick, Luxembourg
M. GRAAS Jos, Howald
M. et Mme HAMER Josy, Luxembourg
Mme HANSEN-TERENS Marie-Paule, Contern
M. et Mme HARPES-GLESENER Patrick et Netty, Hollenfels
M. et Mme JOSSA-GODART Margot et Guy, Luxembourg
M. KETTENMEYER Serge, Hovelange
Mme KIEFFER Christine, Howald
M. KOOB Pierre, Luxembourg
M. LOHR-SCHILTZ Robert, Hivange
M. LUDIG Albert, Luxembourg
M. MARINOV Albert, Dudelange
M. et Mme MOLITOR-RAMON Norbert et Micheline, Remich
M. et Mme MOOTZ Cay et HECKER Anne, Luxembourg
M. MOOTZ Jean-Paul, Luxembourg
M. et Mme MOOTZ-HOFFMANN Paul et Maryse, Luxembourg
M. et Mme MOOTZ Michel et MOLITOR Anne, Luxembourg
M. MÜLLER Jean, Rodenbourg
M. et Mme MÜLLER-FOEHR Gary et Claire, Rodenbourg
M. NOESEN Philippe, Hautcharage
M. PEFFER Jean, Echternach
M. PESCATORE Jérémie, Saint Hilaire de la Côte
M. PRIM Eugène, Steinsel
M. SCHEUREN-KOHLL Claude, Lenningen
M. et Mme SCHROEDER-HANSEN Pierre et Arlette, Frisange
M. SCHUMACHER Pierre, Luxembourg
M. et Mme THOMA-FRANSSENS Fabienne et Bob, Fischbach
Mme THOMA Martine, Godbrange
Mme THOMA Jacqueline, Bourglinster
M. WAGNER Jean-Paul, Luxembourg
M. WARNIER Laurent, Sanem
Mme WEBER Sonia, Dudelange
M. et Mme WEINACHTER-BECKER François, Everlange
M. WIWINIUS Jean-Claude, Niederanven
M. ZUCHELT Pierre, Luxembourg
ANGLE VERT, Junglinster
ANONYME
BGL BNP PARIBAS, Luxembourg
BIL, Luxembourg
GOERES HOTELS LUXEMBOURG, Luxembourg
LALUX ASSURANCES, Leudelange
MUSIEKZUITGEVERIJ HANS BEURSKENS, Maasbree (NL)
VIBRAWELL, Prey (Fr)
Membres Donateurs
Mme ADALSTEINSSON Kristinn, Christnach
M. ALTMANN René, Mondorf-les-Bains
M. BECKER Romain, Luxembourg
M. BREYER Marco, Moutfort
M. et Mme BRUCK-WEINACHTER Dirk et Martine, Useldange
M. CHOQUE Patrick, Burden
Mme CHRISTENSEN Andrea, Bertrange
M. CLEMENT Laurent, Niederkorn
M. CONSBRUCK Charles, Helmdange
M. DEMUTH Jupp, Luxembourg
Mme FABER-REUSCH Colette, Esch/Alzette
M. et Mme FRANK-TRES, Gonderange
M. FRÈRES Guy, Medingen
Mme GRATIA Karin, Larochette
Mme HENNICOT-SCHOEPGES Erna, Bereldange
Mme KLOPP-SCHMIT Monique, Luxembourg
M. KRAUS Patrick, Beringen
M. KRAUS Victor, Mersch
M. LANNERS Nico, Mersch
M. LOESCH Guy, Luxembourg
Mme MANIERI Sabrina, Fischbach
Mme MOLAKAVA Tatiana, Luxembourg
Mme MOLITOR Françoise, Bourglinster
M. et Mme NOSBUSCH Jean-Marie, Strassen
M. REITZ Francis, Kleinbettingen
M. et Mme REVENIG-MOLITOR Henri et Margit, Luxembourg
M. SANTER Jacques, Luxembourg
M. SCHAMMO-LAUTH Fränz, Luxembourg
M. et Mme SCHMITZ-BREGER, Olm
M. SCHMOETTEN Pol, Boevange-sur-Attert
Mme SCHOLTES Sandra, Hautcharage
M. THILL Jean, Sandweiler
M. WEILAND Claude, Elvange
Mme WURTH Carmen, Christnach
Membres Sympathisants
Mme MOSCATELLI Viviane, Metz
M. MÜLLER-KUNSCH Frantz, Schrassig
Mme PINTO DOS SANTOS Maria dos Reis, Luxembourg
M. SCHERER Affi, Luxembourg
M. SCHMITZ Felix, Luxembourg
M. SPAUTZ Marc, Luxembourg
M. SPELLER Jules, Luxembourg
M. WELTER-JANDER Edouard, Junglinster
M. et Mme WERDEL-THILL Roland et Claudine, Contern
Mme WERNER Marie-Anne, Luxembourg